YOOSU
IT WANTS
YOUR FUCKING LOVE
GOD DAMN IT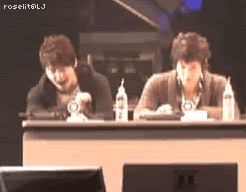 SELLING NEWS/HSJ CDS AND PARTS OF NEWS 2007-2008 CALENDAR

only accept USD AND PAYPAL
CDS
original obi's not included


1-NEWS Hoshi wo Mezashite CD + DVD USED $6 SOLD


2- NEWS Summer Time CD USED $4

4 songs
FEATURING 'LIAR'

CONDITION: case and cd nearly perfect


3- NEWS Taiyo no Namida USED $4 SOLD


4-HEY SAY JUMP UMP! CD+DVD USED $5

CD: 2 songs
DVD: UMP! making and PV

CONDITION: case is scratchy discs are in perfect conditon



CALENDAR

CARDS from NEWS 20072008 CALENDAR




Double sided TEGO RYO YAMPI cards
7'' by 5'' inches
$1 EACH or all 3 for $2.50



Double sided YAMAPI/KOYAMA RYO/SHIGE cards
7'' by 5'' inches
both for $2 SOLD

double sided YAMPI/NEWS card
7'' by 5'' inches
$1.50 SOLD

SET A NEWS
12" by 9" inches
$1.50 EACH or all 6 for $7 SOLD


SET B NEWS/YAMPI RYO shots
12" by 9" inches
$1.50 EACH OR ALL 6 FOR $7 SOLD

SET C NEWS/ other shots
12" by 9" inches
$1.50 EACH OR ALL 3 FOR $3 SOLD

ships anywhere


recently fell out of news fandom
i bought this calander and i think changed the months 3 times and then forgot.
it was still on march of 2008 when i took them down today.
so i decided id put these up for sale.
these are in perfect condition
not to mention incredibly adorable D;
rather sell them then have them sit around
ONLY ACCEPT PAYPAL AND US DOLLARS!
i ship anywere
PI TIN SOLD

TEGO TIN $7 SHIPPED IN US




RYO TIN SOLD

KOYAMA TIN $7 SHIPPED IN US




SHIGE TIN $7 SHIPPED IN US


massu tin and poster are currently not for sale because i still want them C:

shipping will be at latest the weekend after the purchase. any shipping damage is not my responsibility.

please tell me where it is you live so i can calculate shipping please. should be fairly low because they are so tiny.

also better clearer closer photos can be taken if asked. there are backs to the cards as well.